Image via Wikipedia
Bullying Guide

We all know that our children can be bullied in school but when this happens it is usually a fellow pupil who is the culprit but now it seems that your child is vulnerable to another kind of bullying, by teachers. Bullying done in this form is all verbal and done to make your child look stupid amongst his/her classmates; this is usually by name calling such as telling the child they are stupid in front of the whole class.
There has not being much written on the topic of teachers bullying pupils for obvious reasons, but a recent survey came to light revealing that 25% of the teachers who were questioned about bullying admitted they had to some degree during their career with 2% stating they did it on a regular basis.
Signs to watch for in your child
When teachers are the ones who are bullying children, the children are even more reluctant to tell someone than if it is other children who are doing the bullying.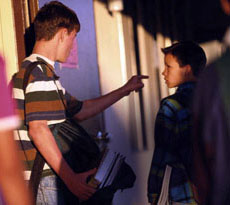 School policies to stop bullying

All schools have to have a policy in place regarding how to deal with bullies, this policy is required by law but schools may have different policies. None of the policies have been studied over the long term so it is hard to say if one works better than another but here are some of the policies that schools have to help combat bullying:
The support or no blame method
In this method the victim of the bully is asked to draw pictures or write a story or poem about the effects bullying has had on them, a meeting will then be held between a teacher and a group of children including the bully. Also in the group will be children who have witnessed the attacks and some that haven't.
The teacher will then show the group the victim's drawings or story and explain to the group the victim's feelings and the effect bullying has had on them. The group is then open to discussion to find ways of finding a solution. The principle behind this is not to put blame on the bully in the hope that by doing so they will not feel threatened and is part of the solution rather than the problem.
Those in the group who witnessed the attacks are meant to see that by doing nothing they condoned the bullying. The group as a whole are asked for any ideas to solutions to stop bullying and responsibility is put on the group rather than a single person. The group will then be asked to carry out the solutions for a week and then they meet up again to discuss what if anything has been achieved.

Counseling between the bully and the victim
The idea is to bring the two together in a room with a teacher and let them both talk over their feelings, the victim has a chance to tell the bully the effect bullying has had and the bully can talk about why he/she feels that they act as they do.
Circle time
This policy is used mainly with younger children, who are experiencing bullying, children are encouraged to sit on the carpet in a circle and talk about how bullying makes them feel. Children are encouraged to listen to each other and to respect each others feelings.
Peer group programmes
This is a strategy that is widely used in schools and involves choosing pupils who will act as peer councillors, the idea behind it is that the whole school knows bullying won't be tolerated so children who are new to the school moving up from juniors are assured that the school is a bully free zone and bullying is dealt with quickly.
The children chosen as peer councillors undergo training into the various effects bullying has on people and how to care for children who are being bullied. Some schools also have a box system whereby if someone is being bullied but they don't want to approach the peer group then they can leave a message with their name on it to be collected. Text messaging and e-mails can also be sent and the whole programme is overseen by a teacher.
Filed under: Bullying In Schools




Archives
Pages
Subscribe
Fill out the form below to signup to our blog newsletter and we'll drop you a line when new articles come up.
Our strict privacy policy keeps your email address 100% safe & secure.